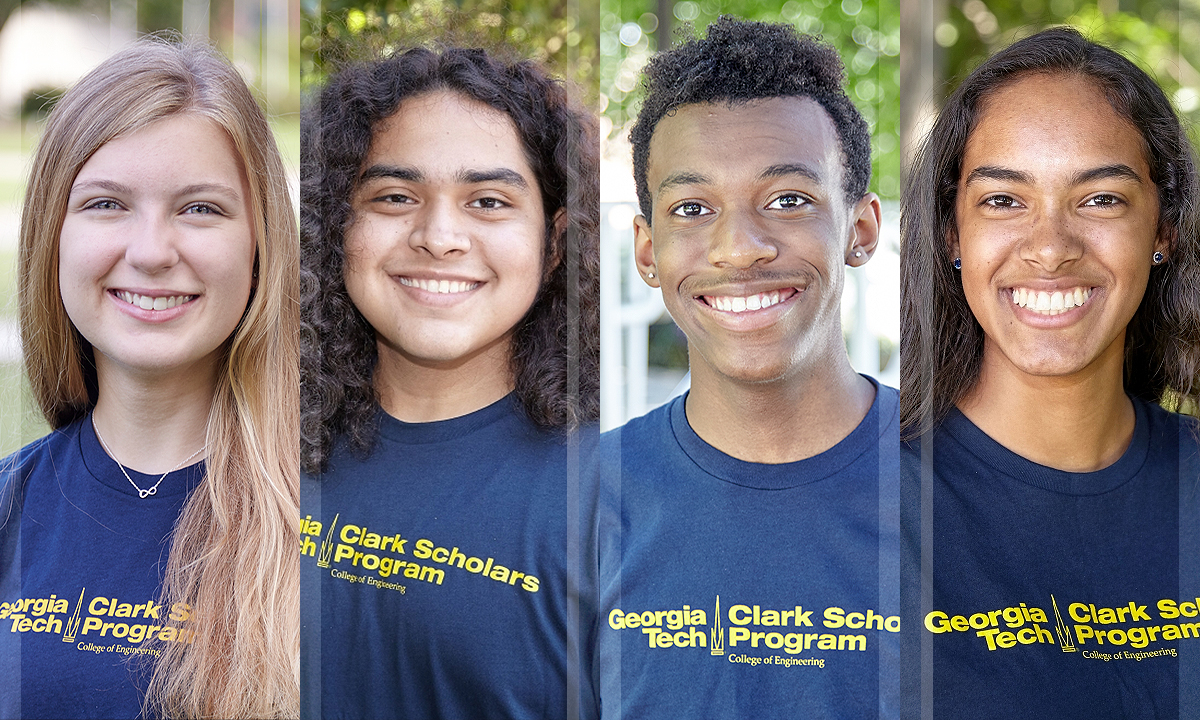 Sep 23, 2020 — Atlanta, GA
By Georgia Parmelee
Twenty Clark Scholars from across the Georgia Tech College of Engineering recently had a challenge extended to them: identify a non-profit responding to Covid-19 and convince a panel of judges that their organization was the most deserving of a $25,000 grant.  The Clark Scholars Program, sponsored by the A. James & Alice B. Clark Foundation, creates an academic experience for students that combines engineering, leadership and community service.
In response to Covid-19, the Foundation wanted to challenge engineering students from across the nation to come up with organizations that would benefit most from a monetary donation. Aptly named The Clark Scholars Program Covid-19 Philanthropy Challenge, students were broken into groups and asked to work together virtually to make an impact on their community.
"In a crisis, people look for ways to help. While Clark Scholars are leaders on campus, they are also dedicated to solving problems and giving back to their adopted communities. We are proud to support them in their efforts to support their neighbors in urgent need, " said Clark Foundation President Joe Del Guercio.  
The team of engineers from Tech that won the challenge included Mackenzie Sicard (ISyE, 2022), Alex Castrejon (ME, 2023), Sidney Winfield (AE, 2022) and Gabrielle Wong (ChBE, 2023). After researching many other deserving organizations across Atlanta, they ultimately chose the Midtown Assistance Center (MAC) as their non-profit to receive the $25,000.
Midtown Assistance Center is a nationally recognized non-profit organization created in 1986 with a mission to provide emergency assistance to low-income working Atlantans to help prevent homelessness and hunger during periods of crisis. It also offers rent, utility and food assistance, and the pandemic has been driving even more of those needs.  
The fact that the Center was already adept at managing times of crisis made it a top contender for the grant.
"We knew that the Center's goal was to assist during a crisis since they are an emergency organization," said Winfield. "Covid-19 heightened their need to respond, and we knew this would be a really good thing because folks would be looking to them for assistance."
Since the start of the pandemic in March, the Center has given out $256,000 in total assistance, and in April assistance increased by 400 percent compared to April 2019 due to its response to Covid-19. Specifically, the Center provided rent and utility assistance, mailed out Kroger and rail transit cards, and provided Instacart delivered groceries to the most vulnerable.
Another important factor when the Clark Scholar team chose the Center was that 100 percent of the grant funds go to help people in need versus covering any salaries or administrative costs.
"We went to the trouble of looking through the Center's 1098 forms to see where the money goes," said Castrejon. "The Center makes it a point to ensure the money goes to people in need. One hundred percent of the Clark Foundation money will go towards their Covid-19 crisis management efforts."
All of the Clark Scholars involved in this challenge felt incredibly lucky to be able to be involved and give back.
"It was an honor in a way to be able to indirectly help those in need that are struggling right now," said Wong. "You see how bad it all is on the news, and you always have that thought that you want to help in some way, and this is how we can do that."
"It was really rewarding to put in the time to research these organizations around the metropolitan area, but since we were able to talk to the Center personally, we felt a connection to an organization in our own backyard," said Sicard.
From food pantries and Instacart deliveries to increasing its capacity to help those laid off due to Covid-19, the grant from the Clark Foundation will enable the Center to more effectively deal with the on-going pandemic. Past the immediate effects of Covid-19, the Center will continue with their mission to serve during crisis, especially with the lasting economic impact the pandemic will surely have on the Atlanta community.